Lighting Bug Ltd.™ has been hand-crafting true to scale, miniature electrical lighting fixtures for dollhouses since 1976. We offer the largest selection of completely assembled handcrafted fixtures available. We make our lights ourselves with the highest quality materials and workmanship.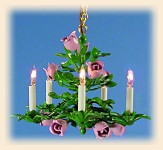 We also provide custom designs or modify our existing lights for your needs! Please call us to discuss how Lighting Bug™ lights can enhance your project. We also offer advice on general wiring questions.
Shop owners, if you would like to sell Lighting Bug™ lights in your store, please contact us.